score
last night, my upstairs neighbor's shower curtain indiscretion resulted in a downpour of warm water through our bathroom ceiling (it was a long shower, apparently). we were so pissed off, we went straight to bed after stuffing towels in the holes in our ceiling, and emptying the trashcans of water. the really aggravating thing is that it wasn't the first time it's happened.
friday night knitting ruined!
today was a far better day, and it's not even over yet. i found the missing dpns this morning, and finished the minisweater: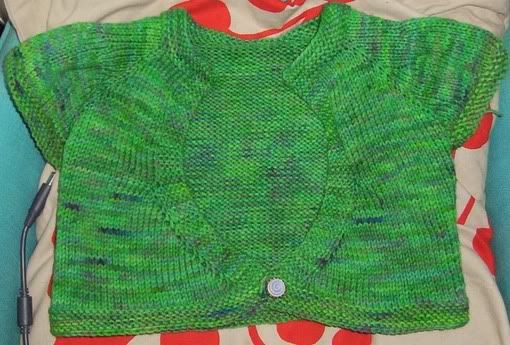 and on:


after finishing that up, i headed out to a few yard sales.
my friend used to say there was always an item of the day when you go to a bunch of tag sales. something you absolutely don't want, but you find everywhere you go. last summer was the summer of the small percolator, i must have seen 700 of them in five months of scavenging, but never did i buy one.
today's theme was most certainly "molded cake pan". more specifically, "cabbage patch kid molded cake pan" day. six. i saw six cabbage patch kid shaped cake pans in 14 tag sales. too bad i didn't want one. too bad there were no elves.
i did have one good find today. i almost drove by this tiny sale, a sweet elderly couple with one small table and 2 cardboard boxes of items. in the boxes, vintage aprons. oh yes, mint, unused, vintage aprons. this is my favorite one, with original tags, pink, with cherries. swoon.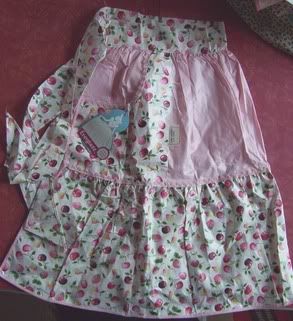 here are 2 others: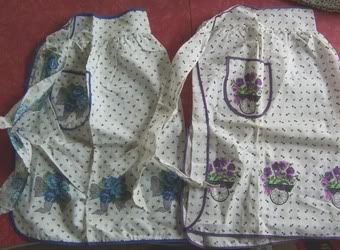 those are reserved for cirilia, who was wearing her great noro apron at the webs tent sale, that i also went to today.
i'll be posting the leaf t-shirt pattern within the next few days.